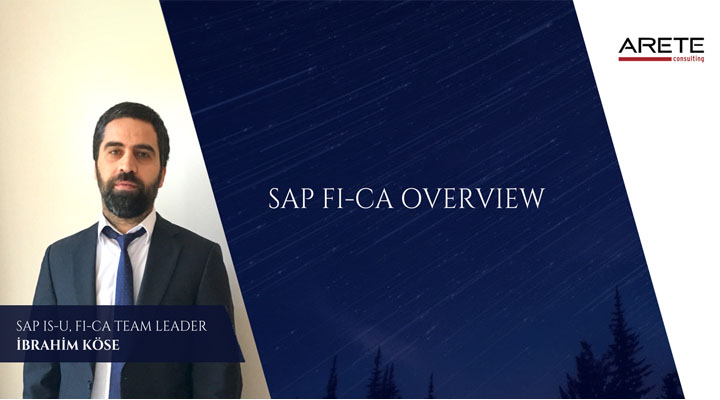 SAP FI-CA OVERVIEW
In our first blog of the ARETE Blog series We ll be giving you a general overview about FI-CA (Contract Accounts Receivable and Payable). Afterwards will be continuing with the details of FI-CA module as technical and the usage in various industry sectors as well, also what we've done so far, what we do and will be doing in the future projects.
As is evident from it's name FI-CA is subledger accounting that firms can manage huge volume of the documents and the master data. As the needs increased dependently big transaction and complexity of the companies about accounting process SAP came up with FI-CA to provide solution instead of managing in FI-AR. By means of its capability we can make millions of daily transaction and post billions of documents in total without having performance issue.
Apart from thinking as subledger we use it as a module on its own in wide variety of sectors such as telecommunication, insurance, public sector and of course Utilities.
With the sales modules (BI-INV, SD, CRM etc) that is integrated and after sales transactions such as collection, collection cancellation, other clearing forms or submitting to law, etc. FICA automates accounting movements and eliminates manual processes hereby it ensures the financial books and 100% consistency.
Some of the main contents of FI-CA that we've already implemented in the projects we involved are below;
Incoming payments
1. Cash Desk Collection
Cash Payments
Credit Card Payments (POS Integrated)
Postal Orders
2. Online Collection (External Cash Desk)
Online Bank Payments
PTT Payments
Official web site Payments
Outgoing payments
Online refunds
Offline payment orders
Security management
1.Cash Securities
Security Request and payments
Calculation interest on security deposit
Return processes
Migration
2.Non Cash Securities
Letter of bank guarantee tracking
Settlement and refund processes
Interest Calculation and Management
Calculation interest
Defining different interest rules
Interest Locks
Dunning and Collections
Dunning Configuration with Parameters
Submission to External Collection (Case Management)
Deferral/Installment Plan
Installment plans
Promise to Pay
Accounting / Taxes
Internal & External Integration
1.Internal Integration
SAP FI, CO, SD, DM, BI, BW, CRM etc.
2.External Integration
External Cash Desk (Banks, PTT, Payment Centers)
Call Center
Case Management
Official Web Site etc.
We've tried to give very short clues with the topics above but FI-CA presents to firms flexible and wide solutions for their unlimited scenarios and the common problems all about their accounting and non accounting transactions. We'll be giving you more details about the capability of FI-CA and the projects in our next blogs.
Best regards,
SAP IS-U, FI-CA Team Leader
İbrahim Köse
Kaydet
Kaydet